Manufacturer of Quality Plastic and Rubber Products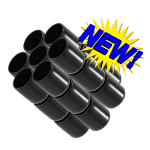 MOCAP lowers minimum order quantity on stock items!
MOCAP
, the Leader in Plastic & Rubber Protective Products, now offers
Micro-Pack
quantities of all of our stock items! In addition to our Mini-Pack quantities, which are around 1/5th of a box, we are now offering
Micro-Packs
, which are approximately 1/10th of a Mini-Pack (typically 10-100 pieces, depending on the part size).
These new MicroPacks are
only
available for purchase through our
online store
.
We keep many varieties of our popular plastic caps, plugs, and grips in stock and ready to ship.
All
of our stock items are available in
Box
,
Mini-Pack
and
Micro-Pack
quantities and can be ordered on line for faster turnaround.
Caps - Plugs - Grips, Vinyl - Plastic - Rubber, Masking - Protection - Finishing
MOCAP offers more Caps, Plugs, Grips, Tapes, Tubing and Netting to satisfy your Product Protection, Masking and Finishing needs.


For over 37 years MOCAP has been the Industry Leader in manufacturing quality Dip Molded Vinyl, Injection Molded Plastic and Injection Molded Rubber Caps and products for virtually every market.


MOCAP is the Only Company that specializes in ALL of these Molding Processes:
Vinyl Dip Molding
Plastic Injection Molding
Rubber Injection Molding
Rubber Extrusion
Plastic Tubing Extrusion